Los Angeles Fire Kills One, Injures Five Two Critically
Los Angeles Firefighters battled a blaze where tragically one man died, two were hospitalized in critical condition and three other people were injured, including a firefighter.

Firefighter was transported in fair condition.
.At
8:20 AM
on the Fourth of July holiday,
LAFD
responded to a Structure Fire at
804 N Alvarado Street
in Echo Park.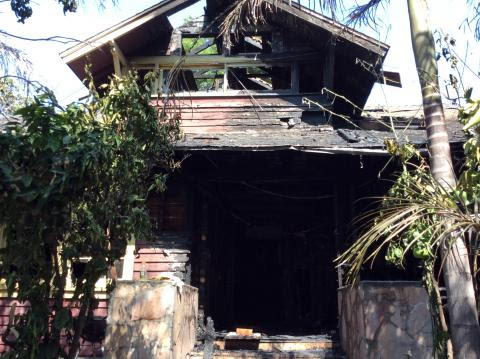 Firefighters arrived on scene to find a one-story home with the attic converted to living space, fully involved in flames, exposing nearby structures. Additional companies were quickly requested.

Firefighters made an intense and aggressive interior attack due reports of people possibly trapped inside. Five of the home's six residents, two of whom are related, were home at the time.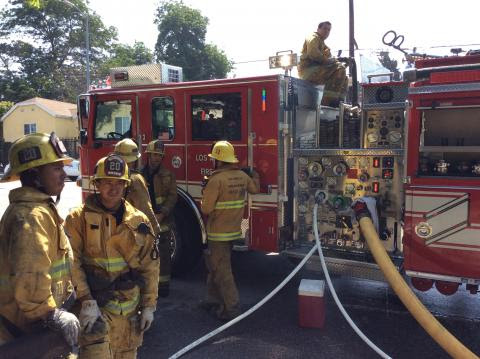 Over 50 firefighters, under the command of Assistant Chief Mark Storms, extinguished the flames in 36 minutes.

There were a total of six patients: One adult male was found inside, beyond medical help, and was determined dead. Two adult males were transported in critical condition to a local hospital, one male and one female were medically evaluated but declined transport, and one Firefighter was transported in fair condition.

There were no bars on the windows or security screens on the doors to prevent occupants from escaping the burning home.

Multiple agencies rallied together with the LAFD to offer support and services. The Mayors Crisis Response Team responded to provide immediate on-scene crisis intervention and emotional support to those affected by the deadly fire. The American Red Cross assisted with temporary housing of four adult males and one adult female that were displaced. Five members of MySafeLA canvassed over three streets adjacent to the incident and provided free smoke alarms along with information and even offered installation if needed.

The home was equipped with smoke alarms, but is unknown if they were functional at the time of the fire. The cause is under active investigation by LAFD Arson Section, and the estimated dollar loss is being tabulated.
Dispatched Units: E6 RA6 E211 T11 RA811 E3 T3 E203 EM11 BC11 T20 E220 RA20 SQ21 RA11 RA35 RA56 AR1 E35 E215 T15 DC22 BC1 EA1 SU1 SU2 RA52 EM1 EM13 RA52 RA803 RA9 AR11 RA4 EM13 AR21 AR9

#AlvaradoStFire
Source: LAFD lafd.org/news
Tweet