King Fire Arson Suspect
Wayne Allen Huntsman
Suspect Wayne Allen Huntsman, 37 held for arson, deliberately setting the King Fire and was being held in lieu of $10-million bail, according to the El Dorado County Sheriff's Office.

Wayne Allen Huntsman was arrested in Placerville after investigators interviewed numerous people and developed multiple leads, El Dorado County Dist. Atty. Vern Pierson told reporters at a midday news conference.

The arrest was announced at a morning news conference in Camino attended by Calfire Director Ken Pimlott, U.S. Forest Service officials and the El Dorado County District Attorney Vern Pierson and Sheriff John D'Agostini.

It was revealed at the news conference that the fire was set near Pollock Pines in very steep terrain. A Calfire investigator was the first to find the origin of the fire and begin the investigatory process that led to Huntsman's arrest.

Pierson said that law enforcement had been in contact with the suspect in the days prior to his arrest in Placerville.

Huntsman will be arraigned at 1 p.m. Friday in El Dorado Superior Court.

Officials would not say how they believe the fire was started, citing the ongoing investigation.
Cal Fire News Story:
http://calfire.blogspot.com/2014/09/king-fire-arson-arrest-made-suspect.html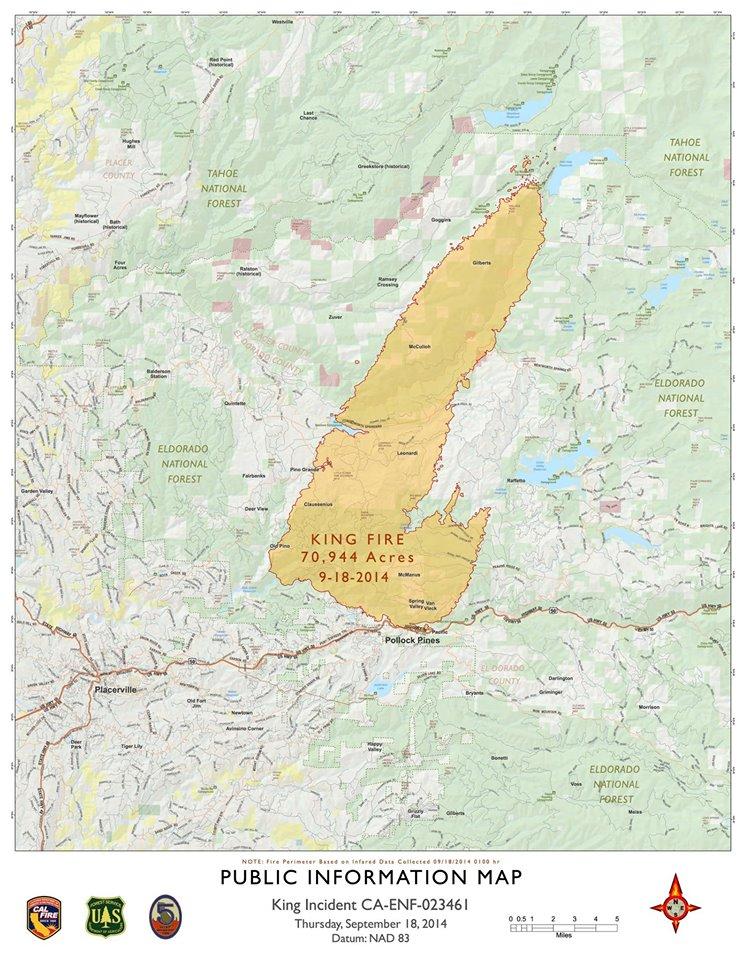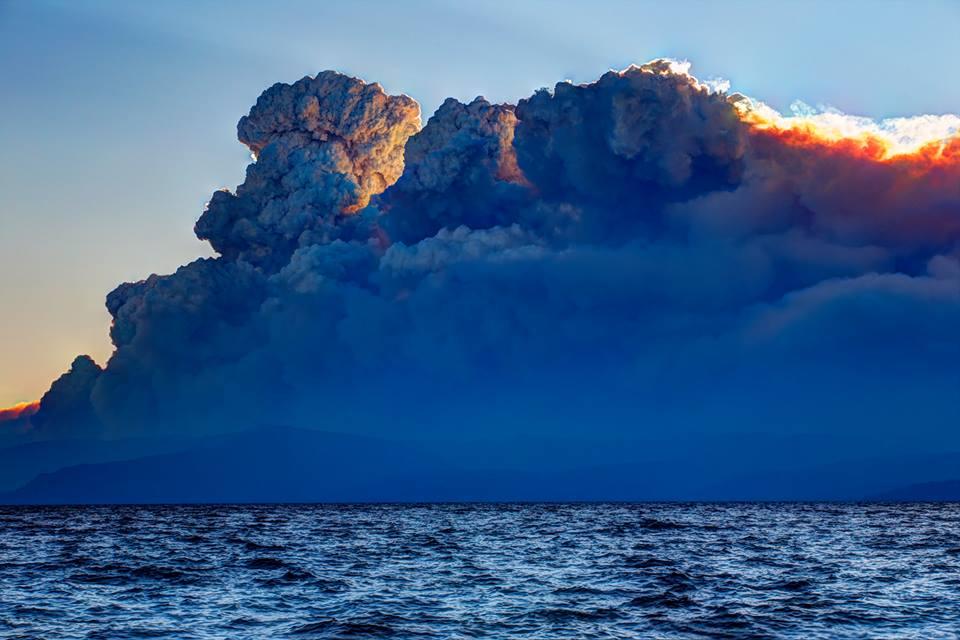 INCREDIBLE photo from
#

LakeTahoe
last night of the
#

KingFire
pyrocumulus! Credit: Steve Ellsworth
UPDATE 9-18-14 1330:

70,994 Acres & 5% Contained


Extending the TFR 1 mile north of French Meadows Reservoir.
Per AA, north end of the fire is currently just south and west of Hell Hole Reservoir, and 2 miles south of French Meadows Reservoir.
No imminent threat to buildings and facilities at the reservoir, but requesting a strike team of engines for structure protection this afternoon and evening for Branch 6.
UPDATE 9-18-14 0830:
70,994 Acres & 5% Contained, growing 50,014 Acres in 24 hours,
The fire remained active overnight. Incident personnel determined that the fire made a run of over ten miles north between 1600 yesterday and 0600 this morning.
Total Fire Personnel: 3,695
Total Fire Engines: 299
Total Fire crews: 88
Total Helicopters: 15
Total Dozers: 49
Total Water Tenders: 68
Conditions: The King Fire is burning in steep terrain in the South Fork of the American River Canyon and Silver Creek Canyon, north of the community of Pollock Pines. the fire made a significant run to the northwest necessitating the mandatory evacuation order for Quintette and Volcanoville.
http://
UPDATE 9-17-14 2030: King Fire on 11 pines road now according to cal fire at public meet last night. fire is

moving mostly to the north, where it advanced several miles in some places. "A very active day."


The fire is burning on steep hillsides in the south fork of the American River Canyon and Silver Creek Canyon, north of Pollock Pines. The fire made a big move to the northwest, requiring authorities to evacuate the hamlets of Quintette and Volcanoville.
A total of 2,000 single family residences are threatened. Another 1,500 other structures are also in danger.
UPDATE
9-17-14 1845:
King Fire: 27,930 acres, 5% contained. This afternoon fire behavior became extreme with plume domination, crown runs and long range spotting. Gov. Brown declares state of emergency in El Dorado and Siskiyou counties
Evacuations:

Note- The mandatory closure to all residences south of Highway 50 between Fresh Pond and Riverton has been changed to a voluntary advisory.

Mandatory Evacuation Orders are still in effect for the following areas:
Crystal Basin - Hwy 50 east of Fresh Pond to Icehouse, north on Icehouse Road to Wentworth Springs, west to just above Quintette, to include campgrounds and businesses. Union Valley Reservoir area, Yellow Jacket Campground, Wolf Creek Campground, Stumpy Meadows Campground, Fashoda Campground, Big Hill Lookout Road, Big Hill Road, Blodgett Forest Road, Bridle Path Way, Forest Road, Frontier Road, Helix Flat Ave, Icehouse Road (west side), Jones Fork Power House Road, Middle Loop Road, Mosquito Road, Onion Valley Road, Outer Limits Lane, Little Silver Road, Loop road, Peavine Point Road, Peavine ridge Road, Plum Creek Road, Piolet Creek Road, Robbs Peak Road, Sand Mountain Road, SMUDEA (permittee site), Spring Road, Sunset Drive, Tricometric Trail, Wentworth Springs (south side, east of Pilot Creek Road), and 11 Pines Road.
The entire community of Swansboro, north of the South Fork of the American River between Brushy Creek and Rock Creek.
The eastside of Forebay Road from King of the Mountain Road to Pony Express Trail. All roads north of Pony Express Trail from Forebay Road east through Bullion Bend. White Meadows Road and Spring Valley Road.



Voluntary Evacuation Advisories

- All evacuations have been lifted for the communities of Gold Ridge and Lakewood Spring. For residences south of Highway 50 between Fresh Pond and Riverton the advisory has been downgraded to voluntary. A Voluntary Evacuation Advisory is still in place for Volcanoville, Quintette, and residents located west of Forebay Road from Blair Road to Pony Express Trail. Additional Voluntary Evacuations Advisories are in place for Badger Hill Road, Marmot Road, Lucky Mine Road, Old Blair Mill Road, Apple Creek court, Applemont Ranch, Chickaree Lane, Longs Creek, Quick Silver Road, Quick Silver Court, and Baltimore Road.

Evacuation Shelter Location: The evacuation center has been moved to the Camino Seventh-day Adventist Church. The address is: 3520 Carson Road in Camino. Another Red Cross Evacuation center is located at 6530 Wentworth Springs Road, Georgetown, CA 95634.

Road Closures : Highway 50 is now open. Forebay Road at Blair Road and at Forebay Road at Pony Express Trail.
King Fire Incident Information:
Acres Burned - Containment: 27,930 acres - 5% contained.
Structures Threatened: 2,007 single residences and 1,505 other minor structures
Date/Time Started: September 13, 2014 4:32 pm
Administrative Unit: CAL FIRE / USFS - El Dorado National Forest
County: El Dorado County
Location: Near Pollock Pines
Injuries: 2
Cause: Under Investigation
Cooperating Agencies: EDSO, CHP, American Red Cross, Cal OES, El Dorado Irrigation District, Sacramento Municipal Utility District, PG&E, El Dorado County Animal Control, Sierra Pacific Industries.
Total Fire Personnel: 3,367
Total Fire Engines: 299
Total Fire crews: 88
Total Helicopters: 15
Total Dozers: 49
Total Water Tenders: 68
Conditions: The King Fire is burning in steep terrain in the South Fork of the American River Canyon and Silver Creek Canyon, north of the community of Pollock Pines.

This afternoon the fire made a significant run to the northwest necessitating the mandatory evacuation order for Quintette and Volcanoville.



More Inforormation:
Phone Numbers (530) 647-5218 (King Fire Information Line)
For the latest evacuation, visit the King Fire Information page: https://www.facebook.com/KINGFIREPIO
---------------------------------------------