Sheriff: CAL FIRE official missing after killing fiancee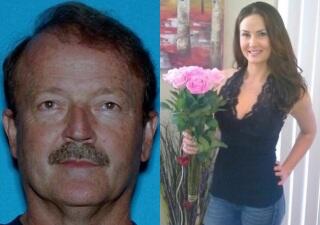 UPDATE 5-10-14:
Cops: Fugitive fire chief hiding in the mountains
SHARON BERNSTEIN, REUTERS
SACRAMENTO, Calif. – Homicide detectives searching for a California fire chief suspected of fatally stabbing his girlfriend turned their attention to the state's massive mountain ranges on Thursday, saying he may be hiding out along trails and backroads.


The Sacramento County Sheriff's Department said Orville "Moe" Fleming, a 55-year-old battalion chief with the California Department of Forestry and Fire Protection, has deep knowledge of the Sierra and Santa Cruz mountains and the picturesque Yosemite Valley.

Fleming, who has fire department keys giving him access to gated trails and roads, disappeared a week ago after his 26-year-old girlfriend, Sarah Douglas, was found stabbed to death at the home they shared.

The hunt for Fleming, believed to be armed, comes just over a year after former Los Angeles policeman Christopher Dorner fled into Southern California mountains after a murderous rampage targeting police officers and their families. That case ended in a fiery standoff that left Dorner dead.

The Fleming case has not yet sparked the same kind of intense manhunt that was undertaken for Dorner, when hundreds of officers joined the hunt for him, in part because he had targeted law enforcement officials and their families.

Investigators said Thursday they have not yet been able to narrow down Fleming's location, and are hoping public attention could bring reports of sightings that would help them mount a targeted search.

The case took a prurient turn when sheriff's investigators said someone from an escort service may have helped Fleming evade capture.

"Investigators have discovered that Fleming has had contact with many escorts he met through the website "My Redbook," the sheriff's department said on its Facebook page.

After the murder, the fire department car that Fleming used was found abandoned in a Sacramento suburb, the department said.

"Investigators are looking into the possibility that someone Fleming knew, either through his contact with escorts, or through his personal or professional life, picked him up and drove him away," the Facebook post said.

The sheriff's department, in a separate Facebook posting on Wednesday, noted that Fleming has changed his appearance in the past by shaving his head and mustache. He frequently wears a baseball cap and has tattoos on his left arm and bicep, it said.

Even though a week has passed since Douglas' death, her assailant would likely have sustained cuts on his hands and arms that would require bandages, investigators said. They said Fleming owned two pistols and should be considered armed and dangerous.
UPDATE 5-9-14: Sarah Douglas Murder: California Fire Chief On The Run After Escort Girlfriend's Butchered Body Found

ELK GROVE, Calif. (CBS News) -- A California fire department chief suspected of murder may have used an escort website to dodge authorities, reports CBS Sacramento.

Cal Fire Battalion Chief Orville Fleming, 55, has been on the run for six days after the body of his 26-year-old girlfriend Sarah Douglas was found Thursday in a south Sacramento County home that the couple shared, according to the station.

Now, new developments in the case suggest that Douglas was a high-priced escort who met her boyfriend Fleming - now her accused killer - online.

"We do know she had been advertising on [MyRedbook.com] as an escort in the past," said Sacramento County Sgt. Lisa Bowman. CBS Sacramento reports the site connects escorts with customers, and even offers patrons the opportunity to write reviews about the services.

Even more unusual, authorities believe that the suspect continued to use the site even after allegedly committing the crime. "We have information that [Fleming] has most likely reached out to someone in the community of [Redbook]," Bowman said.

According to the station, investigators think Fleming was likely picked up by someone he met on the site just moments after Douglas' fatal stabbing, when the suspect reportedly ditched his Cal Fire truck in Elk Grove.

"If he can commit such a heinous and violent murder in the way that he did, we're concerned for the public," said Bowman.
UPDATE:
The white pickup truck belonging to a Cal Fire battalion chief suspected of killing his 26-year-old fiancee has been found in Elk Grove.
But 55-year-old Orville Fleming remains at large, according to the Sacramento County Sheriff's Department on Thursday night.


The vehicle is a 2007 Chevy with a Cal Fire logo painted on its side. Officers with the Elk Grove Police Department found the unoccupied truck about 8 p.m. at Black Kite Drive and Apricot Woods Way.

Neither an air nor a ground search has revealed any sightings of Fleming.
He does have ties to the Elk Grove neighborhood where police found the truck, said sheriff's spokeswoman Lisa Bowman, although she didn't indicate what those were.
Witnesses in the neighborhood said it's possible the truck could have been parked in the area since the early morning hours.
Fleming is accused of killing Sarah Douglas in the couple's South Sacramento home, and then taking off -- possibly to the Fresno/Clovis area, officials said Thursday.


Douglas' aunt, Trina Werly, said the pair had been together "a couple years."

"(People) said he was a good guy, but he was very obsessive and controlling and possessing over her," Werly said. "I believe he has firearms."

Fleming works as a Cal Fire instructor in Ione, and has been with the state fire agency for 24 years. Cal Fire officials are working with the sheriff on the investigation.

"Right now, we have to let the sheriff's office do their investigation (and) figure out what happened -- who was involved," Cal Fire spokesman Daniel Berlant said. "Because of how serious this is though, we are absolutely supporting them in (every) way that we can."

Douglas' sister found Sarah dead in a bedroom, the aunt told KCRA 3.

" ... You never want to find a family member like this -- the way that he left her was tragic," Werly said. "It was extremely violent. You can see there was a serious struggle."
It was around 9 a.m. Thursday when deputies learned of the body found inside the home, which sits in the 9300 block of Fox River Way. It's not clear how they were tipped off to Fleming as a suspect.
"(Douglas') mom said that when she met (Fleming), she felt he would try to do something to Sarah," Werly said.
Investigators said earlier Thursday that they believed Fleming wouldn't stick around the Sacramento area.
In addition to the Fresno region, he has ties to several other parts of California, the sheriff's department said.


Fleming has brown hair and brown eyes, stands at 6 feet 1 inch tall and weighs about 190 pounds, deputies said.
Anyone who has had any contact with Fleming, or spotted the man, is asked to to call 916-874-5115. Homicide detectives are working the case.


"We're wondering how this is going to all turn out," Werly said. "My family is going to take a lot to recover from this. Sarah is a good girl. She'll be really missed."