GRANADA HILLS - Local Firefighters held a warm celebration at Fire Station 87 for the oldest surviving retiree of the Los Angeles Fire Department (LAFD) on January 24, 2014.
Jack Rein reminisced as he sat on a 1927 Moreland antique pump and shared LAFD history with firefighters and the public.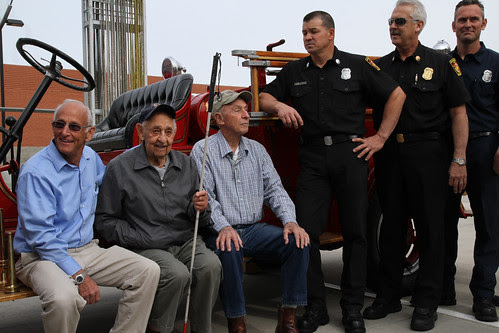 He was born in New York in 1914 and moved to the Boyle Heights area of Los Angeles as a young boy, then attended Lincoln High School and eventually UCLA. During the Depression he worked various jobs and married his beautiful bride Sally in 1937 and had two sons. He went on to pursue a career with the LAFD in 1940. He then enlisted in the Army Air Corps in 1943 and served overseas in the China/Burma/India Theater as a fireman and was discharged in 1945.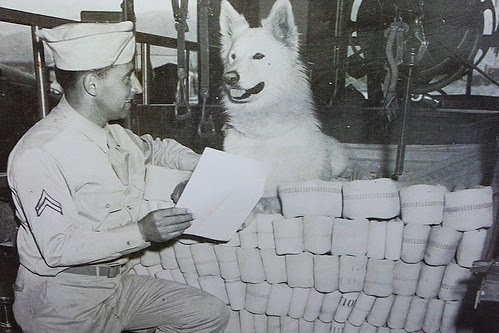 Mr. Rein returned to the LAFD and worked until retiring in 1970. He proudly worked at the following assignments: E-
20
; E-
6
; E-
11
; E-
35
; T-
20
; E-
64
; E-
67
; E-
34
; E-
18
; E-
26
, E-
94
; E-
71
; T-
92
; E-
43
. He promoted to Captain and was number one on the 1963 captain's list.
One of the more notable incidents he recalls were dodging pot shots during the
1965 Watts riots
for several days and fighting the massive
Bel Air fire
in 1961.
"It's an honor to be with you here today Jack. An honor to celebrate your service to the Los Angeles community as a firefighter for 30 years and your service to your country during the 2nd World War. Happy 100th birthday!" - Dave Wagner, Editor: The Firemen's Grapevine
Submitted by
Erik Scott
, Spokesman
"Serving with Courage, Integrity and Pride"
Public Service Officer
Emergency Public Information (EPI) Center
Los Angeles Fire Department
500 East Temple Street
Los Angeles, CA 90012
213.576.8938
---------------------------------------------