LAFD BALDWIN HILLS - Firefighters quickly extinguish a house fire and pulled an elderly male out of a burning home on January 10, 2014.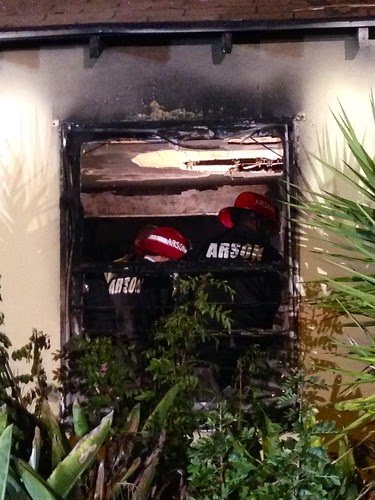 The Los Angeles Fire Department (LAFD) was alerted of a Structure Fire at just after 6:00 PM and quickly arrived to 3865 West boulevard to find a one-story single family dwelling with fire shooting out the front door.
Firefighters were met by a neighbor near the entrance, frantically stating there was a man trapped in the home. Firefighters rushed inside, quickly battled the intense flames and began an immediate and strategic search of the 1,288 square-foot home, in zero visibility due to heavy black smoke.
Simultaneously firefighters on the roof utilized chainsaws to cut holes to allow the thick smoke, heat and gases to escape, greatly improving visibility inside. Shortly thereafter firefighters located an elderly male unconscious on the ground and pulled him out the rear door to safety, where Firefighter/Paramedics were standing by and rendered immediate medical aid. The patient was rapidly transported to a local hospital, sadly in grave condition.
Due to a well coordinated and aggressive attack, over 50 firefighters under the command of Battalion Chief James Lesinski, fully extinguished the fire in just 21 minutes.
In examining the fire's aftermath, there was no immediate evidence of a functional smoke alarm within the residence. There was a front security door and window bars on the 70-year old house, which was not equipped with residential fire sprinklers.
The blaze caused extensive damage, however firefighters were able to save portions of the home and personal belongings.
The fire cause is under active investigation by skilled LAFD Arson Investigators. The monetary loss is still being tabulated.

Dispatched Units: E94 RA94 E68 RA68 E26 T26 E226 E215 T15 EM11 BC18 BC11 E15 T94 E294 RA894 RA46 EM9 AR1 DC1 AR7 AR11

Every year in the United States, about 3,500 people die in home fires. Most of these deaths occurred in homes that didn't have a working smoke alarm.
Your Los Angeles Fire Department asks,
"If a fire breaks out in your home while you are asleep, how will you know?"
Smoke and heat rapidly build, making every second count. A smoke alarm is constantly on alert, scanning the air for fire and smoke 24/7. Remember, Smoke Alarms not only protect your family but can help save the lives of firefighters who would otherwise have to risk their lives by searching a burning home for residents.

Lastly, don't forget to prepare and practice your fire escape plan twice a year with everyone in your household.
,
---------------------------------------------