Update 6/13/2013 1500:
The
#

BlackForestFire
has claimed two lives.
15,700 acres burned so far.
0% cont. 38,000 evacs, DC-10 VLAT Deployed
#

CoFire
City of Colorado Springs -- MANDATORY Evacuations
Kim Melchor
NEWS RELEASE
June 13, 2013 -- Time: 1:30 p.m.
MANDATORY EVACUATION ORDER ISSUED FOR
AREA A-1: NORTHERN PORTION OF CITY VOLUNTARY EVACUATION ZONE
Colorado Springs, Colo.—City officials have issued a Mandatory Evacuation Order effective immediatelyfor the following area due to the Black Forest Fire.
Mandatory Evacuation Area A-1: Northern Boundary: North Gate and Old North Gate Road - Southern Boundary: Flying Horse Club Drive (to include homes south of Flying Horse Club Drive on Barossa Valley Road and Veneto Way)/Vine Cliff Heights/Equinox Drive/Serenity Peak Drive - Eastern Boundary: Highway 83 - Western Boundary: Voyager Parkway
Voluntary Evacuation Area A: West to I-25 and all areas north of Old Ranch Road within the City limits of Colorado Springs not included in Mandatory Evacuation Area A-1.
Media Notice: Office of Emergency Management Director Bret Waters, Police Chief Pete Carey, and Interim Fire Chief Tommy Smith will hold a 2 p.m. press conference at Pikes Peak Community College Rampart Campus.
A Mandatory Evacuation means that you are in immediate danger. Load your family and pets into your vehicle, and GO NOW. Once you have left the evacuation zone, you will not be allowed to re-enter until the danger has passed.
The Colorado Springs Police Department will continue to patrol the mandatory and voluntary evacuation zones to provide security for residents' homes while they are out of the area.
Be sure to take essential items—medicine, special foods, personal items, baby supplies, clothing, money, and valuable papers – but do not overload your vehicle. Families are encouraged to take only one vehicle to avoid congesting the evacuation routes. Secure your home before you leave. Be sure to check on any neighbors who may need assistance. Consider texting to communicate with family members instead of phone calls as cellular service may be interrupted due to high call volumes. Don't text and drive.
Residents with no means of transportation or who are physically unable to evacuate on their own, should ask a neighbor to assist them or call the following number: (719) 444-7000.
Human Shelters:
Residents who cannot stay with family or friends outside the evacuation area, go to one of the shelters listed below:
Palmer Ridge High School- 19255 Monument Hill Rd, Monument
Small Animal Shelters:
Powers Pet Emergency- Powers and Stetson Hills – Offering small animal assistance, medical & kennel. Ph (719) 473-0482
Falcon Animal Hospital- Phone (719) 495-1457, is now accepting dogs and cats. Address: 860 Swing Line Road.
Palmer Ridge High School 19255 Monument Hill Road Monument, CO 80132*
Humane Society of the Pikes Peak Region 610 Abbot Lane Colorado Springs, CO 80905
*If you are NOT staying with your pets at the Palmer Ridge High School shelter, you must bring your animals to Humane Society of the Pikes Peak Region at 610 Abbot Lane. The Palmer Ridge High School shelter is set up for owners staying with their pets only.
Do not allow pet to run loose. If residents cannot make arrangements for your large animals the following places may be able to provide assistance:
Large Animal Shelters:
Elbert County Fairgrounds (95 Ute Avenue, Kiowa, CO. 303-718-3343).
El Paso County Fairgrounds in Calhan is now accepting evacuated large animals.
"BE READY!" If you are not in the current evacuation or pre-evacuation areas there is currently no immediate danger to your home, family, or business, but the fire is growing and may be moving toward you as weather and wind conditions change. Now is the time to get ready. Refine your evacuation plans, and gather the things you'll need if you must evacuate.
It is imperative that all citizens stay away from all evacuated areas. Please do not stop in these areas for any reason as it can endanger evacuees and emergency personnel.
Mandatory Evacuation Zone, Pre-Evacuation Zone, Voluntary Evacuation Zone
Source: El Paso County Sheriff
Pre-Evacuation - No immediate threat, but the danger may be moving closer; Prepare for possible evacuation. The El Paso County Sheriff's Office (@EPCSheriff) tweeted this clarification: PREEVACUATION means there is no immediate danger to your home, family, or business, but the fire may be moving toward you.
Voluntary Evacuation - The danger is moving closer and a mandatory order may be issued at any time. Officials say you do not need to wait for a mandatory order before leaving.
Mandatory Evacuation - Leave now. You will not be allowed to return until after the threat has passed.


Mandatory Evac areas have changed. Northern boundary extended to County Line Road, western boundary to Highway 83. We will continue to update the map as new information is available.

Voluntary evacuation order for area in Colorado Springs city limits north of Old Ranch Road and east of I-25.

Evacuation and pre-evacuation areas from the El Paso County Sheriff's Office:

Mandatory Evacuation: Eastonville Rd. east to Hwy 83., County Line Rd. south to Burgess Rd.

Area 1 Pre-Evacuation: Burgess Rd. south to Stapleton Dr. / Volmer Rd. east to Meridian Rd.

Area 2 Pre-Evacuation: Latigo Blvd. south to Stapleton Dr. / Meridian Rd. east to Hwy 24

Area 3 Pre-Evacuation: Guy Ranch Rd. south to Stapleton Dr. / Eastonville Rd. east to Elbert Rd.

Area 4 Pre-Evacuation: Burgess Rd. south to Old Ranch Rd & Poco Rd. / Milam Rd. east to Vollmer Rd.

Voluntary Evacuation:All areas north of Old Ranch Road within Colorado Springs city limits and west to Interstate 25
NWS Colorado Black Forest Fire

Evacuation Immediate
Alert:

THE CITY OF COLORADO SPRINGS HAS ISSUED A MANDATORY EVACUATION 
ORDER. THE NORTH BORDER IS NORTH GATE BOULEVARD AND OLD NORTH GATE 
ROAD. THE SOUTH BORDER IS FLYING HORSE CLUB DRIVE...VINE CLIFF 
HEIGHTS...EQUINOX DRIVE...SERENITY PARK DRIVE...BAROSSA VALLEY 
ROAD AND VENETO WAY. THE EAST BORDER IS HIGHWAY 83 AND THE WEST 
BORDER IS VOYAGER PARKWAY. A MANDATORY EVACUATION MEANS THAT YOU 
ARE IN IMMEDIATE DANGER. LOAD YOUR FAMILY AND YOUR PETS INTO YOUR 
VEHICLE AND LEAVE NOW. ONCE YOU HAVE LEFT THE EVACUATION ZONE YOU 
WILL NOT BE ALLOWED TO RE-ENTER UNTIL THE DANGER HAS PASSED. 
RESIDENTS WITH NO MEANS OF TRANSPORTATION OR WHO ARE PHYSICALLY 
UNABLE TO EVACUATE ON THEIR OWN...SHOULD ASK A NEIGHBOR TO ASSIST 
THEM OR CALL 7 1 9...4 4 4...7 0 0 0. RESIDENTS WHO CANNOT STAY 
WITH FAMILY AND FRIENDS OUTSIDE THE EVACUATION AREA...GO TO THE 
FOLLOWING SHELTER...PALMER RIDGE HIGH SCHOOL AT 19255 MONUMENT 
HILL ROAD IN MONUMENT.
UPDATED MANDATORY EVACUATIONS OCCURRING NOW! MORE EVACUATIONS EXPECTED
Updated Evacuation List:

Another 2,000 homes added to Pre evac. 1,000 added to Mandatory evacuation zone.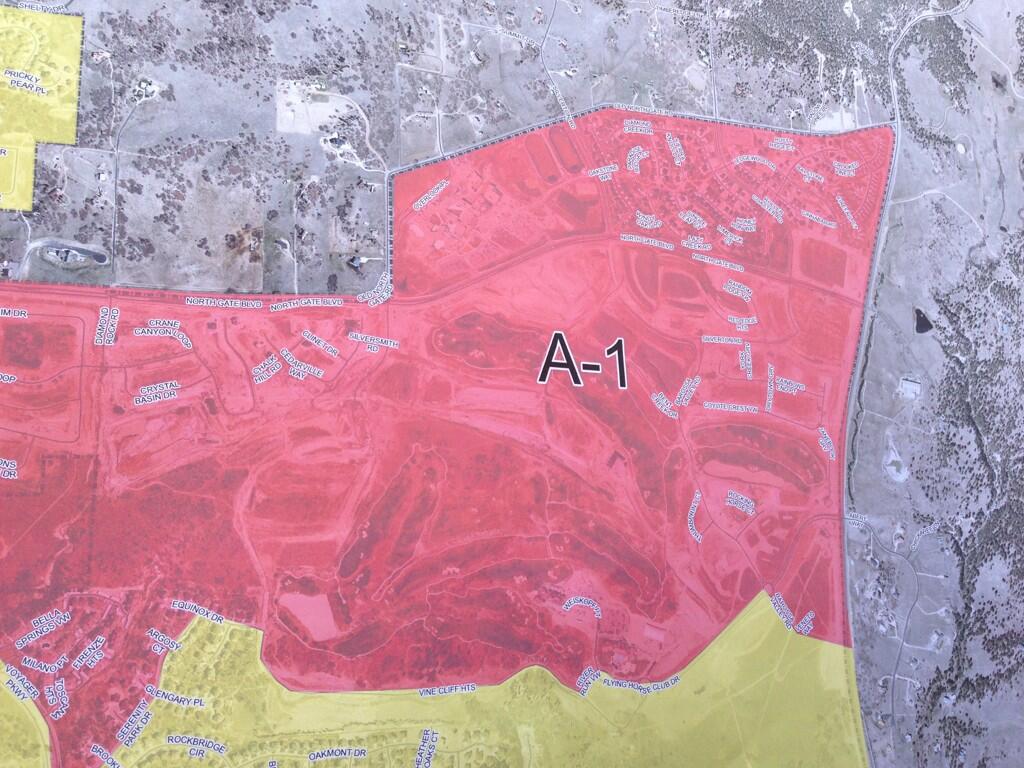 Updated Evacuation Map:
Another 2,000 homes added to Pre-evacuation. 1,000 added to Mandatory evacuation zone.
Colorado Black Forest Fire MODIS Heat Map
The blaze comes nearly a year after the Waldo Canyon Fire tore through Colorado Springs, destroying 347 homes. That fire, until this week, had been the worst in Colorado history.
So far, no known fatalities caused by the fire, which has created a huge plume of smoke hovering over the region.

A DC-10 super tanker VLAT(Very Large Air tanker) releases a fire-retardant solution to help stop the spreading Black Forest fire in El Paso County, Colo., June 12, 2013.
Update 6/13/2013 1200:
Current
@EPCSheriff
list of homes burned, damaged, untouched in
#blackforestfire
http://bit.ly/12GZsnl
Forest fire breached the high forest fire line early this morning firefighters are shifting east.
Update 6/13/2013 0700:
360 homes destroyed, 15,000 acres burned and 0% contained.
Fire is seriously blowing up again on the west side at 83 & Northgate.

Update 6/12/2013 2000: Black Forest (CO-EPX). 8 miles se of Monument, CO. (39.0 46N, 104.44 59W). Appx: 8,500 acres @ 0%. GB IMT 1 (Harvey) in-briefed at 1800.

Update 6/12/2013 2000: Voluntary evacuations for northern colorado springs area, and residents and businesses north of old ranch road and east of I -25 fire is on hidden rock road. the local ranchers have offered to let the water tender personel fill up their trucks using their water ponds as there has been water issues on this fire as to water sources and hydrants are not working.
Update 6/11/2013 1500:
Multiple residences burning. Radio reports are that maybe 10-15 structures burning.
Black Forest

CO-EPX-000330

Type: WF
Start: 06/11/2013 1421
Cause: U

Priority:

Overhead Team Name: S. Campbell
Type: Type 3 Team

Local:

GACC: 1

Size:
8,500 ACRES
% Cnt/MMA:
0 %
Est Contain:
06/20/2013
Latitude:
39° 0´ 46"
Longitude:
104° 44´ 59"

| | |
| --- | --- |
| Location: Within the City limits of Black Forest Colorado | $$ Costs to Date: $0 |

| | |
| --- | --- |
| Structures Threatened: 150 COMM , 200 OUTB , 1,500 PRIM | Structures Destroyed: NONE |

Resources Committed:

Total Personnel:
Report Date: Jun 12, 2013 1200

| | | | | | | | |
| --- | --- | --- | --- | --- | --- | --- | --- |
| Agency | CRW1 | CRW2 | HEL1 | HEL2 | HEL3 | ENGS | OVHD |

Significant Events: Inbriefing of Great Basin Team 2 at 1800hrs.Remarks: Assisting agencies: Colorado National Guard, Fort Carson and 4th Infantry Division, State of Colorado, Colorado State Police, 28 local fire departments, 8 local law enforcement departments, 2 county, posibly a 3rd county Sheriff departments.
Observed Fire Behavior: Low RH w/sustained crown runs
Planned Actions: Continue Structure protection, Evacuations will remain in effect, Anchor/Flank/Secure as conditions allows.




Location:

Within the City limits of Black Forest 8 miles se of Monument, CO.
GPS: (39.0 46N, 104.44 59W)
Reported Date/time: 06/11/2013 1421
IA: 15 acres, Request monument Helitack and a T-1 out of Rifle if available. Also requesting tankers from Pueblo
ROS: Rapid
ROC: *
Structure Threats: *
Concerns: *
Weather Info:
Minimal IA reported this evening with considerable acreage growth on existing large fires. Hot, dry, and windy conditions continue across Colorado and into central Wyoming. Additionally, subtropical moisture moving northward will initiate isolated thunderstorm activity over the higher elevations of Colorado into central Wyoming Thursday afternoon and evening, and again Friday. This may increase IA, especially over Colorado where fuels are more receptive.
RAWS:
http://raws.wrh.noaa.gov/cgi-bin/rom...LKGC2&time=GMT
Special Conditions: *
Other Comments: *
Radio Frequencies: *
Maps: *
Agency Website: *
Online Scanner: *
Live Video: *
Web Cams: *
---------------------------------------------