Update 4-18 Noon:
NOT OFFICIAL -

LODDs 5 West Firefighters, 4 EMS Medics, 1 Off Duty Fire Captain from Dallas (who was in town at the time and was assisting) and 1 unconfirmed (unknown agency at this point) Firefighter have been killed in the Line of Duty. Active search and rescue operations are continuing.
#WestFire Midnight PST Update: Waco police department giving press conference now. Evacuations are still ongoing. Number of fatalities still not being confirmed. Spokesman confirmed that there are firefighters and possibly one law enforcement officer unaccounted for. Stated that the mayor is also a firefighter and that the event has taken a toll on him because he knows he has probably lost firefighters.
UPDATE: 11:47 - EMS DIRECTOR SAYS AS MANY AS 70 PEOPLE FEARED DEAD IN TEXAS FERTILIZER PLANT EXPLOSION HUNDREDS INJURED
UPDATE: 10:58 - EVACUATIONS ONGOING NOW - At least 5 dead
WEST TEXAS FIRE DEPARTMENT FIREFIGHTERS OPERATING ON SCENE AT TIME OF EXPLOSION - MANY FF'S DOWN - OVER 100 INJURIES BEING REPORTED - NUMEROUS BLDG'S ARE ON FIRE

A massive explosion at a fertilizer plant in a small Texas town near Waco Wednesday has damaged 75 to 100 houses and businesses. As many as 200 people are injured.
West Texas FD Operating at Fertilizer Plant - Building on Fire - Major explosion Occured - Multi casualties Reported
To check on injured residents admitted to Hillcrest Baptist Medical Center call (254) 202-1100
For family inquiries about patients at Scott & White call (888) 394-4947
Family inquiries about patients at Providence Health Center (254) 761-7200
WEST TEXAS (April 17, 2013)—
A massive explosion has rocked a fertilizer plant near Waco, Texas. Hundreds of people were likely injured, state official says. A nursery home was destroyed by the blast and numerous buildings were damaged.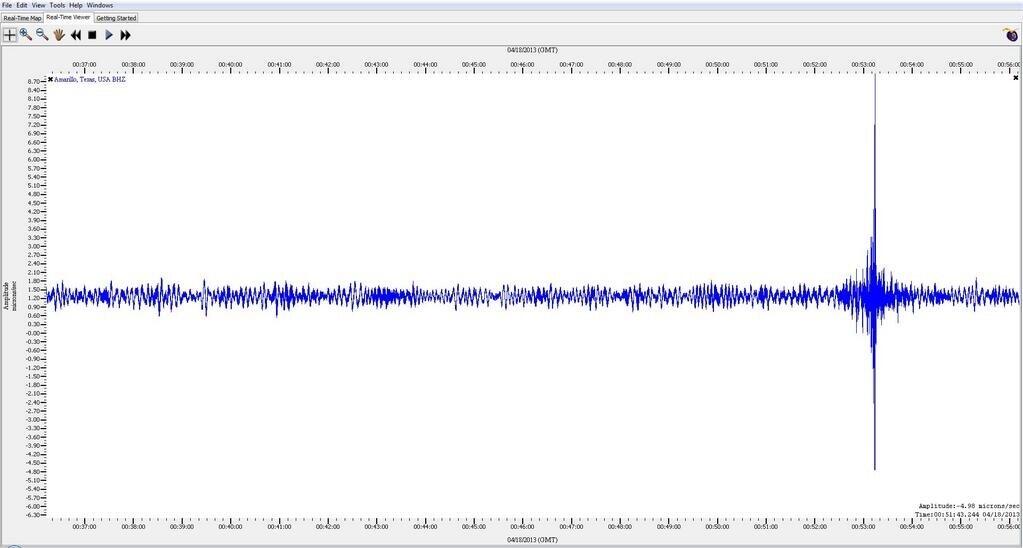 Explosion registeredon seismograph in Amarillo (~400m from blast)
The explosion occurred around 7:50pm local time in the town of West, north of Waco. A fireball of nearly 100 feet high has been reported along with a massive power outaGE
A rescuer says five people died Wednesday night in a powerful explosion at a fertilizer plant in West that damaged nearby buildings and set others on fire, causing dozens of injuries, some critical.
Meanwhile, emergency crews were pulling back late Wednesday night because of concerns about the possibility of a second explosion.


Emergency crews from throughout Central Texas responded just before 8 p.m. Wednesday after the first explosion at the plant in the small town north of Waco.

The explosion was reported at around 7:50 p.m. in a frantic radio call from the scene of the fire at West Fertilizer at 1471 Jerry Mashek Dr. just off Interstate 35.

The fire started in an anhydrous ammonia tank and spread to the building, authorities said.

The resulting explosion spread the fire to the Middle School and to a nearby nursing home.

The blast was felt throughout the city and as far away as Hillsboro, Whitney and Blum.

Most of the injuries resulted from debris being thrown from the blast, glass, doors and other shrapnel, authorities said.

Everyone within one mile of the fire was ordered to evacuate.

Numerous injuries were reported and multiple ambulances were requested.

About 60 people had been taken to Hillcrest Baptist Medical Center by shortly before 10 p.m.

There were reports at around 9:45 p.m. that a second tank containing anhydrous ammonia was on fire, but authorities said that was the only fire still burning in the town.

Because of the threat of another explosion, emergency crews were being moved from the football field to another staging area.

An approaching storm was expected to produce gusty winds overnight that should dissipate any fumes, but that will fan the flames of any fires still burning.

Several buildings were reported destroyed in the blast and a nearby nursing home was damaged.

There were reports earlier that people were trapped in the nursing home and in an apartment building.

Scanner traffic indicated that some residents of both the nursing home and apartment building were severely injured.

Children were among the injured victims, according to reports from the scene.

Two children were reported to be trapped on the second floor of the damaged apartment complex.

McLennan County Sheriff Parnell McNamara said the area looked like a war zone.

He could not say whether there were any deaths and did not know how many people were injured.

Department of Public Safety troopers transported some victims to hospitals in patrol cars, said Gayle Scarbrough at the DPS Communications Center in Waco.

A triage area was first established at the intersection of Haven and North Reagan Streets, but it was later moved to Marable Street and Meadow Drive because of the potentially toxic smoke from the fire.

As many as a dozen helicopters were sent to the area and were landing at West High School stadium and at least two-dozen ambulances were waiting there to transport victims to hospitals.

The staging area was later moved because of the threat of an explosion from a second burning tank.

A number of buildings were reported to be burning, some in residential areas and evacuations were underway.

Authorities were going door-to-door checking residences in the area.

West Middle School was one of the buildings reported to be on fire.

Injured victims were being taken to area hospitals.

An officer was dispatched to provide crowd control at Hillcrest Baptist Medical Center in Waco, which issued a call to all staffers to report.

The explosion knocked out power to a large area of the community.
Scanner Sound File: Initial Dispatch https://soundcloud.com/alertpage-1/west-tx-explosion-initial