Update 08:30am
4-23
0700 CA-MRV-Madison Monrovia
#
Wildfire
125 acres and 85% contained. [
CA-MRV-31120
]
#
Cafire
Update 08:30am 4-21 - 75% contained. Full containment expected later today.
Update 10:30pm - 124 Acres, 48% containment. Night Ops in place. Day shift briefing at 0700.
Update 9:40pm - At this time, the Madison Fire is 50% contained, covering 175 acres. There have been no damaged or destroyed structures, and only one heat-related incident with a firefighter, that was treated on scene and is doing well. Personnel has been downgraded to 20 fire engines, 6 hand crews. Air support remains available if needed. At the peak of Madison fire, there were 220 fire fighters fighting the blaze.
All incident command will now go through the Emergency Operations Center at Monrovia City Hall.
"There is no imminent danger. Some flames are still burning, primarily off of Lotone and Heather Heights," said Fire Chief Chris Donovan. Evacuation orders for Alta Vista, Highland, Heather Heights and Briar Cliff are still undetermined based upon winds that may pick up overnight. Residents are asked to be patient, but no time has been established at this point to lift the evacuation.
Updated 9:00 pm - Evacuation orders are being lifted for all neighborhoods EXCEPT Hidden Valley, Alta Vista, Briar Cliff and Highland. Residents may return to their homes, effective immediately.
Emergency response crews will discuss in the next several hours lifting the evacuations.
as of 8:00pm: At this time, evacuation orders are still in place for all affected areas.
The Red Cross has set up a shelter for those evacuated at the Community Center, 119 W Palm Avenue, Monrovia, CA 91016. The shelter will be available throughout the evacuation period.
Pets: Pasadena Human Society (626) 792-7151 and Wonder Ranch Dog Ranch in Monrovia (626) 205-2501 are offering to board dogs and cats.
Mandatory Evacuations For Following Homes:
Mandatory evacuations have been issued for the following areas - Heather Heights, Alta Vista, Melrose, Magnolia, Hidden Valley, Mesa Circle, Skyway, and Patrician Way. Crescent, El Nido, Highland from Foothill, Franklin, Scenic 400-500 blocks, Cloverleaf, Lotone, Hidden Valley, Ridgeside, Briar Cliff, Golden Hills, and everything west of Canyon Park North of Scenic.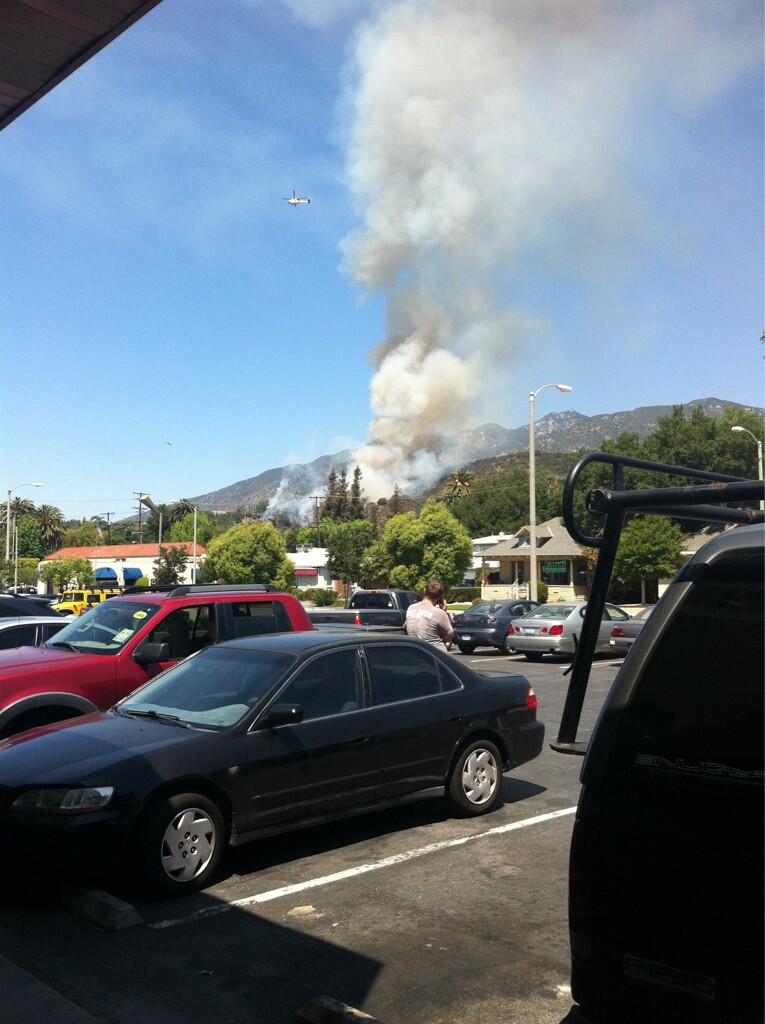 Photo of Large Header CA-MRV-Madison Wildland Fire
from twitter user
@xelshinesterx
CA-MRV-Madison
Update Noon: Third alarm brush in Monrovia.
Update 1300hrs: Fire over the ridge moving east.
Update 1330hrs: 50% contained on Zulu side, LAC Strike teams en route for structure protection
Update 1400hrs: 15+ acres, 10%
Update 1500hrs: Mandatory Evacuations 50 acres. Fire jumped Highland.
E

ight streets were being evacuated.

No homes were currently threatened. Evacuation center at Monrovia Community Center at 119 W. Palm.
2 firefighters with minor injuries.
Update 1600hrs: 90 acres, engine crew spotted a black bear on the move trying to escape the fire put lookout on that for safety.
One firefighter has suffered a heat-related injury.

Update 1730hrs: 175+ acres, Mandatory Evacuations for

200 homes.

Location: Crescent Dr & Madison Ave, City of

Monrovia, in the foothills of the San Gabriel Mountains
IA: 2 acres, IC reporting 3 acres now in medium to heavy brush.
IC: CA-MRV-31120 -

Area command incident with the city of Monrovia Fire Department with assistance from surrounding agencies
Cause: Landscaper
Resources: Multiple fire agencies were assisting in the firefight, including Monrovia, Arcadia, Pasadena, San Marino, and Los Angeles County Fire, The U.S. Forest Service and Los Angeles City Fire
BC-12 DV-2 ENG-10 ENG-12 ENG-14 ENG-27 ENG-517 PAT-12 PAT-16
Verdugo E22GLN, E32Pas, E33 pas, E34 pas E,37pas, E52sgb, E63 mpk,E72 alh, e73alh, e101mrv, e102 mrv, e105, arc, e106arc, e107arc,t101mrv,s101mrv,br21gln,br56mtb, wt101 mrv
LAC E244, E5,E44, E47, E244
Strike Teams:
*LACoFD Strike Team Assignments* ST1103A (27,3,16,165,148,BC3C) ST
VNC sending a type 3 strike team 1107A (236,116,94,106,158,BC7C) staging at Hillcrest & Madison
Fuels:
medium to heavy brush.
Note: LA County Copter 11 landed at helispot, out of service